MOST FREQUENTLY ASKED QUESTIONS ABOUT
KARLTON RESIDENTIAL CARE CENTER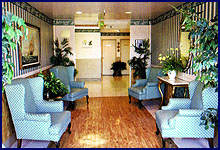 WHO OWNS KRCC?
Karlton Residential Care Center is privately owned and operated by Barbara and Jared Weiner.

WHAT LEVEL OF CARE CAN YOU PROVIDE MY LOVED ONE?
Karlton can handle various levels of care as long as potential residents meet the criteria of a RCFE. Karlton is licensed for non-ambulatory care and offers complete assistance with bathing, dressing and grooming. All medications are centrally stored and distributed by a licensed nurse. We also provide Respite as well as Hospice Care.

WHAT IS YOUR STAFF RATIO?
Karlton provides a ratio of eight patients for each staff member.

WHAT KIND OF FOOD DO YOU SERVE?
Karlton provides three nutritionally balanced hot meals daily. In addition residents are served three snacks in between meal times. Our kitchen staff is also prepared to handle any special dietary needs. Our menus are always posted so residents and families know what meal to expect each day.

WHAT IF MY LOVED ONE MISSES A MEAL?
Our kitchen will provide a hot meal 24 hours a day to meet the needs of our residents.

WHAT IF MY LOVED ONE IS UP ALL NIGHT?
Karlton has trained, awake care givers 24 hours

DO YOU PROVIDE RESPITE CARE?
Yes. Karlton will provide respite care from 24 hours to 30 days if necessary.

WHAT KIND OF MEDICAL SERVICES ARE AVAILABLE?
Podiatrists, dentists, optometrists, or any other medical service that is required for your loved one can be provided at our facility.

HOW CAN I BE ASSURED THAT MY LOVED ONE IS APPROPRIATE FOR YOUR LEVEL OF CARE?
Our licensed nurse provides medical assessments at no charge. If your loved one requires a different level of care then we will gladly refer you to an appropriate facility.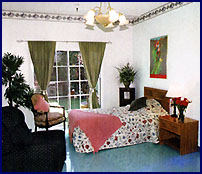 HOW LARGE IS YOUR FACILITY?
Karlton Residential Care Center is a 76 bed home that offers six private and 32 semi-private rooms.

HOW MUCH CLOTHING SHOULD MY LOVED ONE BRING?
We suggest that you provide seven to ten days worth of clothing. Laundry service is provided daily at no extra cost.

HOW OFTEN DO YOU PROVIDE SHOWERS?
There is a regular shower schedule. Each resident is assisted in showering by one of our care givers and is also done as needed.

DO YOU EXCEPT MEDICAL?
All residential care must be privately funded.
Info | Staff | Admissions | Activities | Services |FAQ | Home

info@karltoncare.com
License # 306000295
3615 W. Ball Road
Anaheim, CA 92804
Tel (714) 236-1170
Fax (714)236-1174
siite Designed, hosted and maintained by Purpose Media, Inc.
©2001 All Rights Reserved