About Us
Located in North Orange County, administrators/owners, Barbara, Jared and Mathew Weiner believe in fostering a sense of community by having an "open door", and are able to interact daily with all of their residents and families. A Licensed Professional Nurse is available seven days a week.
Our friendly staff is specially trained to work with the complexities of Alzheimer's Disease, Dementia, and the Memory Impaired. On-going, monthly in-services are offered to continue to provide the highest quality of care. Assessments are done every three months to make sure our staff is able to meet the needs of our residents. Experienced programs are designed to deliver dignity, compassion and love to our special clients.
We have created a wonderful spacious environment allowing for safe wandering indoors as well as outdoors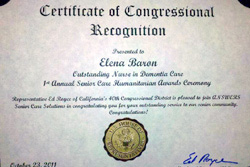 Elena Baron Weiner received the very first annual Humanitarian Award for Outstanding Dementia Care 2011 Congressional Recognition Award!